Shock protection
Shock protection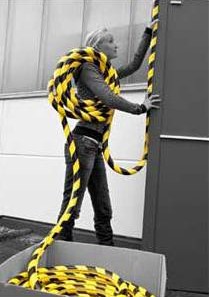 The flexible warning and protection profiles delivered by Haagh Protection act as a personal crumple zone for people, machinery and other inventory. The protection profiles absorb shocks and impacts and are highly effective in preventing personal injury or damage to your properties.
The warning and protection profiles are highly flexible and created  from CFC-free polyurethane foam. Its special production process creates a transparent protective layer over the hazard marking. This also means there is no external paint layer, which protects the profiles from peeling and scratches.
The design provides strength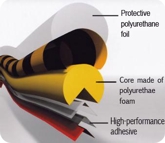 The secret of the enormous strength of this material lies in the design of the profile: The inner profile contains a polyurethane core, protected by a special film that protects the warning colors, even when subjected to heavy wear and tear. As the marking's yellow and black stripes have a high warning effect, fixed obstacles are easily identified and incidents are prevented. Deploying these protection profiles means that the effects of personal injury or high repair costs are significantly reduced . These hazard markers can be deployed in various situations, for instance at transport routes, in car parks, near machines, walls and aisles, on planks, doors, warehouse racks or stairs. The red and white markings are often deployed for temporary situations, while reflecting profiles, or even glow in the dark profiles, are also available to accommodate every need you might have!
Shock protection for indoor and outdoor use
Haagh Protection shock protection withstands temperatures between -40 °C up to +100 °C and is moist and UV radiation resistant, allowing you to deploy this superior product both inside and outside. The flexible warning and protection profiles are available in lengths of 1 meter, or on rolls with a 5 meter length. The profiles can be easily cut to length and, per your request, are available in rolls up to 50 meters. All protection profiles can be ordered in various sizes and colors, a few examples of which are depicted below: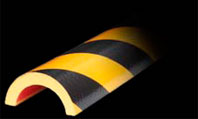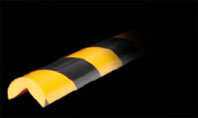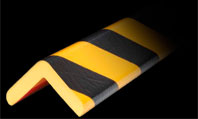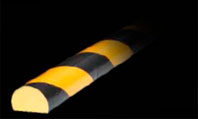 Assortment shock protection:
FOR MORE INFORMATION, SAMPLES OR PRICING, PLEASE CONTACT US USING OUR CONTACT FORM OR SEND AN EMAIL TO: info@haagh-protection.com