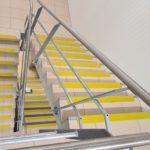 Vigil Antislip – Industrial Solutions
Vigil Antislip – Industrial Solutions
The safest, most durable anti-slip investment for any industry.
Last week Haagh Protection constructed stainless steel Vigil Antislip Stairnosings on several stairs at a big industrial abbatoir in the Netherlands. With all steps slipfree again, all personell can use the stairs safely at this company.
In our view safety cannot be compromised on stairways. Vigil Antislip Stair Nosings offer high visibility whilst both ascending or descending. Vigil Antislip Stair or Bull Nosings (in different coarse garadations)  can be fitted permanently in seconds without the risk of being loosened by vibrations or heavy use.
The Vigil Antislip industrial range provides the hardest wearing, longest lasting antislip properties available in the market. Fully Guaranteed to maintain 100% of non-slip properties, to resist scuffing and delamination, and to remain impervious to specified fluids and contaminants for a minimum of ten years.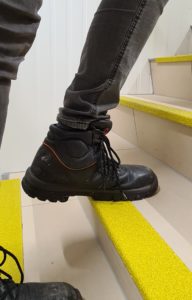 The Vigil Antislip range is ideal for the oil & gas, manufacturing, offshore and marine, construction-, processing- and fabrication industries.  Also a complete custom solutions service is available, and all products can be designed to aid in evacuation directional marking.
Please contact us at info@ haagh-protection.com or tel. +31 (0)161-226559 for more information, quotation or free samples.
-DISTRIBUTORS WANTED IN SEVERAL COUNTRIES-
Tags: antislip, nonslip, vigil, worksafety