VARIOGATE® Safety
PALLET GATE/ SAFETY GATE/CANTILEVER GATE
Through negligence, haste or sometimes because of carelessness, removable gates, doors or chains in loading areas between floors are very often left open, posing hazardous situations. Safety gates, also called cantilevered loading platforms, offer the only good safeguard for loading areas between floors.
The VARIOGATE is designed to protect workers who are located close to the loading areas. The safety gate also prevents goods from falling down and causing injury to bystanders or damaging goods on the lower floor.
ASSORTMENT SAFETY GATES FOR HIGH LOADS AND RESTRICTED SPACE (Heigth):
Assortment VARIOGATE® Safety Pallet Gate Systems:
ASSORTMENT SAFETY GATES FOR RESTRICTED DEPTH:
Assortment VARIOGATE® Safety Pallet Gate Systems:
ASSORTMENT SAFETY GATES IN RESTRICTED SPACE AND HIGH LOADS, COMBINED WITH TACKLE/BLOCK:
Assortment VARIOGATE® Safety Pallet Gate Systems:
SAFETY NETTING VARIOGATES :
From now on we can also supply safety nets from stock. Available in lengths of 1.40 – 1.80 – 2.20 and 2.80 metres wide, suitable for the standard Variogate systems.
Safety nets protect smaller sized goods from damage caused by a fall from a higher level. They also prevent injury to pedestrians walking at the lower level. Made to size nets are also available upon request.
Mesh size 10 x 10 cm.
Nylon yarn, 3.0 mm.
Colour black (white on request).
All around provided with a 10 mm collar cord.
NEN certified according to EN 1263-1.
EXTRA FENCING / HANDRAILS VARIOGATES:
As from today we can also supply additional steel fencing or handrails from stock. Available in lengths of 1.20 meters wide, it is possible to make extra handrails on the sides of our safety gates. Safety handrails inside or outside the company can be used for different purposes. The first goal is to ensure the safety of employees, customers and other visitors within the company obviously.
Available in height of 1.10 meters.

Powdercoat in Ral 1028
Provided with shovel edge
Easy to assemble
Different configurations possible
Easy to customize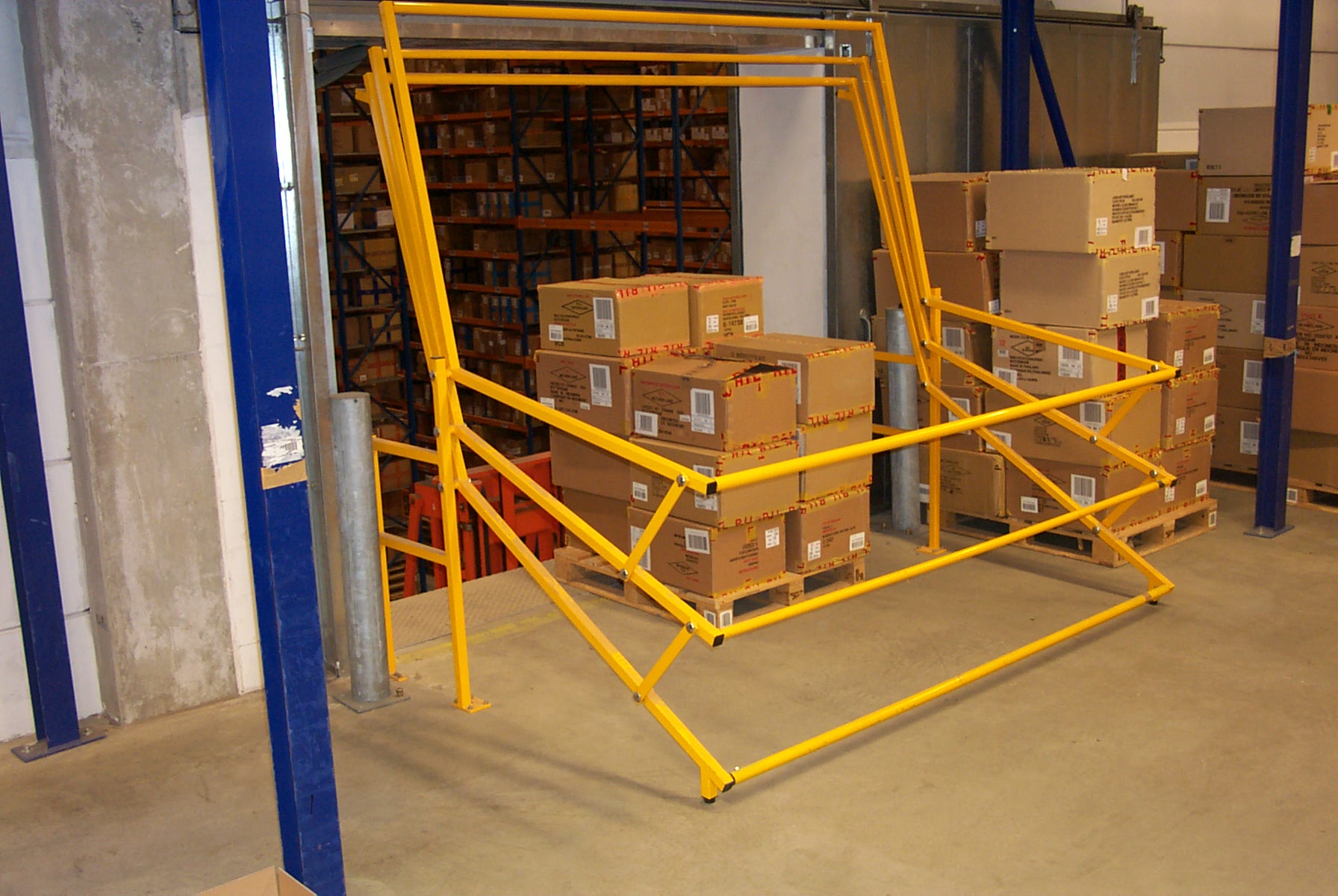 SELECTION GUIDE CUSTOM MADE SAFETY GATE

Haagh Protection has developed a selection guide to help you choose the right device to meet your particular needs. Completing these questions about the location and required dimensions, will assist you to find the optimal solution for your situation.
Should your situation be very different to the solutions offered, we can arrange an appointment (with no obligations) so that we can meet your individual requirements. Click on the selection guide to find the right product of your choice!

For advise, please contact our product specialist.