References
---
Vigil anti-slip
Yves Vissers,  Safety & environmental Manager Datwyler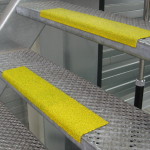 After experiencing a number of periodic accidents, causing delays now and then, we decided to replace the existing anti-slip system. We found out about Vigil anti-slip through product references and during a visit to a trade fair. We carried out tests with elements on stairs as one of the applications for its use and, after positive results, we decided to apply it to other situations, particularly on stairs where we used Vigil anti-slip elements. The conditions on site are such that it is difficult to keep areas free of grease, but since applying Vigil anti-slip these areas are now slip free. Our staff are very positive about the product.
---
Deme group

Els Vereecken, Deme Group
Remarks about Haagh Protection:
Preference from all our captains
Delivered on time
Good first impression
Easy to install
A good antislip system
Increase the safety feeling on board
No problems when there is snow and ice
10 years guarantee
---
Vigil anti-slip Fugro Marine Services

Bastiaan de Jager, Fugro Marine Services

It is known now that diamond jacker plates, etc. eventually get slippery and form a safety risk, rather then preventing one. Now there are a lot of good products on the market, but the one that (at least to me) is really outstanding is Vigil Anti Slip. Their product is really fantastic when it comes to anti slip, but it is also really long lasting. After we installed on the Markab on all stairs and ladders, we had zero slips and falls recorded. The product is still as new after 1,5 years heavy use. It is a big difference with the products from Safemate, No Skidding, 3M, which appeared to be all only short term solutions.
---
Vigil anti-slip Caltex Australia

Steven Hannah, Operations specialist Caltex Australia

Caltex first used your anti slip product at our Western Australian oil blending facility located at North Fremantle. Although this plant has now closed and has since been demolished, I can confirm that the anti slip coating's supplied by your company stood up to some of the harshest treatment imaginable. At the time, Caltex's greatest concern was with the safety of staff working on the oil blending platform. This area of the plant was subject to abuse from full 205 litre additive drums as well being saturated with a variety of chemicals from time to time. The anti slip coatings supplied stood up to this harsh treatment and were still functioning as per their design criteria up until the blending plants closure.
Due to a number of reported incidents relation to slips during wet conditions, Caltex also purchased anti slip stair treads which were installed on our refines product tanks at North Fremantle, Albany and Port Hedland. The terminal operators endorsed their installation and there has subsequently been no further reported slips or near misses while ascending or descending the tank stairways. These tread coatings have been in place for in excess of ten years, and in all cases are in "as new condition".
I have no hesitation in recommending the Vigil Anti Slip floor and tread coatings. Personal experience has shown your product to be durable and long lasting.
For advise or more information about our references, please contact our product specialist.