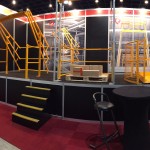 Logimat 2016

Haagh Protection and her team of specialist will again be present on a leading logistics fair. From March 8th untill 10 March you can find us (and our assortment of safety products) in Hal 5 of the Stuttgart Trade Center.
Please visit us for a demonstration of our safety pallet gate systems, anti slip product and other safety items. Our booth number is 5817.
We hope to meet you there!