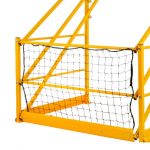 New: Safetynetting for Variogates
New in the Haagh Protection assortment: Safety netting for Variogate systems.
Safety netting can protect both goods from damage due to falling down a higher level and preventing injuries on pedestrians walking on the lower level. This can occor when using one of our Variogates in combination with small goods to be loaded on a pallet. The safety net prevents goods from falling of the mezzanine.
Available in 4 sizes of:
1400 mm * 1000 mm (1.600 mm wide apparatus)
1800 mm * 1000 mm (2.000 mm wide apparatus)
2200 mm * 1000 mm (2.400 mm wide apparatus)
2800 mm * 1000 mm (3.000 mm wide apparatus)
Obviously made to size items are available as well. More information about our Variogate systems can be found on www.variogate.com
Tags: fall protection, safety netting, safetynet