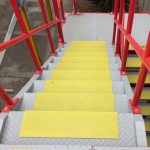 Don't fall for second grate Anti-slip
A growing number of companies use fibreglass as the foundation, due mainly to the low cost.
Although resistant to corrosion, these products do not normally last long, particularly with stair nosings where they tend to break along the nosing's leading edge. The leading edge of these FRP products is an intrinsic weak point. Once damaged, the nosing will need to be replaced, as they tend to become loose and an accident is imminent.
You take substantial risks if you decide to purchase cheap, low quality anti-slip equipment, including:
Premature failure.
Ongoing replacement costs.
Creation of unintended secondary hazards.
Ongoing injuries between replacement.
Downtime during replacements.
Being labelled incompetent & losing face.
Vigil Antislip -Class One- Safety Products are manufactured to the highest standards using the most durable materials available. Each product comes with a written Ten Year Replacement warranty. So your purchase is risk-free and will continue to provide the highest quality slip resistance. Many times longer than provided by every other anti-slip supplier.
Other disadvantages:
Another disadvantage of GRP antislip is that to achieve sufficient structural stability. These nosings are often very thick, creating a possible trip hazard by catching the heel while descending the stairway or walking along a walkway.  Manufacturers overcome this problem by manufacturing the stair nosings with a depth close to that of the step underneath.  This unnecessarily inflates the cost. And it is also then often necessary to have the stair nosings in two colours. Safety yellow at the front of the nosing and black at the back.
It is also a property of these products that they bow up in the centre when fastened along the edges, creating a potential trip hazard. Manufacturers normally purchase the angled foundation from a fibreglass extrusion company. In most cases this is manufactured using polyester resins. These are not resistant to petroleum products.  To counter this, they apply their antislip surface using a chemical resistant epoxy resin system.  This means that the surface only is resistant to petroleum products. It creates another issue because polyester resins and epoxy resins are not compatible. Delamination may occur over time. From our experience, every manufacturer of FRP products uses quartz or fused alumina as aggregate.  Quartz (hardness: 820 kg/ mm2) and fused alumina (hardness: 1800kg / mm2) are comparatively soft when compared to silicone carbide. This is used in Vigil antislip (hardness: 2480 kg / mm2).  FRP antislip will wear very quickly and the aggregate will often pull out of the resin system which partly encapsulates the grains.
A number of competitive products we have tested show that most of them do not have long term resistance to solvents present in petroleum products. For the complete test results and more information please contact us via info@haagh-protection.com or tel. +31-(0)161-226559
https://www.youtube.com/watch?v=pptIkzAk7uQ
Tags: slippery floor, Vigil Antislip, worksafety